Research
---
Impacts of climate and habitat on populations and communities


It is increasingly important to understand not only how species respond to environmental conditions, but also the relevant temporal and spatial scales of covariates. Much of our current research aims to identify the climate and habitat factors that are responsible for observed variations in species distributions and abundances. See below for selected research projects.


Assessing continental declines of migrating monarch butterflies

With a collaborative researchers team, we are developing hierarchical statistical models to estimate both local monarch population abundances across sites in the midwest and continental-wide variations in abundances and demographic rates across North America. Our goal is to track dynamics at each life history stage of this unique and iconic migratory species to determine 1) which stage(s) may be linked to declines observed in wintering populations in Mexico and 2) the climate and environmental factors that may be driving those declines. Our results indicate that spring temperatures experienced by first generation monarchs in Texas can greatly influence the overall abundances of subsequent summer populations in Ohio.

Collaborators: Leslie Ries (GU), Karen Oberhauser (UW)



Expected counts in 10 nm segments for sea duck species by sea surface temperature (SST) in years with the highest positive (solid line) and lowest negative (dashed line) NAO values over the sampling period 1991-2002. BLSC = black scoters, SUSC = surf scoters, WWSC = white-winged scoters, COEI= common eiders, and LTDU = long-tailed ducks. Reproduced from Zipkin et al. 2010 (Oecologia).

Determining the factors influencing sea duck distributions along the eastern coast of the U.S.

Despite their seasonal proximity to urbanized areas in the nearshore Atlantic region, there is limited information on patterns of wintering sea duck habitat use. To characterize environmental conditions that affect wintering distributions, we modeled sea duck count data for five species from historical surveys using a zero-inflated negative binomial model that included both local-scale habitat covariates and broad-scale weather variables. The North Atlantic Oscillation (NAO) was the only environmental covariate that had a significant (but variable) effect on the expected count for all species, suggesting that broad-scale climatic conditions may be directly or indirectly important to the distributions of wintering sea ducks. These results help to assess the impacts of climate change on seabirds.

Collaborators: Emily Silverman (USFWS), Beth Gardner (UW), Allan O'Connell (USGS)


---
Sustaining communities in the face of environmental change


The goal of conservation and management is to protect species from threats to their survival. Often the focus of management is on multiple species or even multiple taxa. In such cases, it is necessary to evaluate how conservation actions, which generally alter habitat conditions, affect the status of all individual species within a community. Yet identifying and implementing appropriate management plans can be difficult because data tend to be limited for many of the rarer species. We develop models to assess how management actions affect all species within a community and not just those that produce enough data for traditional analyses.

The figure on the right is a diagram of a multi-species hierarchical occurrence model. It describes an approach we use to estimate species occurrence probabilities and richness while accounting for imperfect detection during sampling efforts. For more information see Zipkin et al. 2009 (Journal of Applied Ecology), Zipkin et al. 2010 (Biological Conservation), and my website on community models, which contains relevant code. Below is an example that uses the community modeling framework to determine guidelines for the optimal management of amphibians.
---
What is the expected return of management? Yellow circles indicated the potential gain in amphibian richness if half of the wetland sites in a National Park are managed according to the optimal strategy; blue triangles indicate the return if only a quarter of sites are managed and red squares indicate richness if nothing is done and observed declines continue. Reproduced from Grant et al. 2013 (Conservation Biology).

Optimal management strategies for wetland breeding amphibians

There is a desire to detect, understand, and respond to declining amphibian populations within the U.S. National Park system. Using amphibian monitoring data and a structured decision making process, we identified a potential management strategy for one park in the National Capitol Region (NCR) to maintain species richness and mitigate the observed declines of eight species. We are now working to synthesize data across other parks in the NCR to develop optimal strategies for conservation at larger spatial scales. The challenge is to develop an approach that maintains the viability of the amphibian community at the network scale in the face of both external and internal threats to park resources, while incorporating differing needs and management objectives from individual parks. To do this, we are developing models that account for variations in habitat and goals for amphibian populations across parks.

Collaborators: Evan Grant (USGS), Jim Nichols (USGS), Patrick Campbell (NPS)


---
Development of hierarchical models


Our lab develops and employs hierarchical statistical models to answer complex ecological questions. Through this approach, we separate out process from observational errors, which allows for a more precise and accurate estimation of the true biological process of interest. Below is an example of a recently developed model.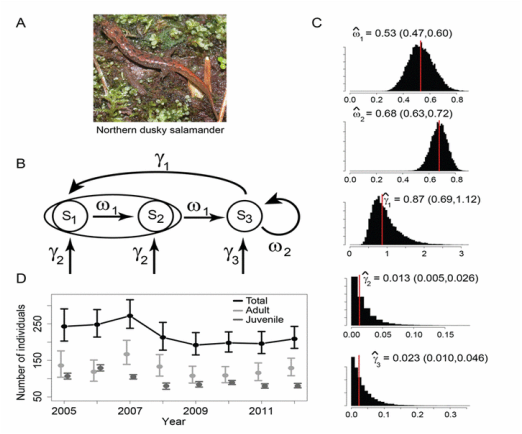 We developed a stage structured model to estimate demographic parameters and abundance using only count data. This modeling framework can be used to make reliable inferences on abundance as well as recruitment, immigration, stage-specific survival, and detection rates during sampling. We applied our modeling framework to a population of northern dusky salamanders (Desmognathus fuscus) in the mid-Atlantic region and found that the population is unexpectedly declining.

The figure on the right shows: (A) Northern dusky salamander; (B) Life cycle diagram for the northern dusky salamander; (C) Parameter estimates including full posterior distributions, median values (red lines) and 25th to 75th posterior intervals (50% PI) for demographic transition rates; (D) Annual total abundance estimates (median values and 50% PIs) at 21 sampled locations of all individuals combined (black), adults (light grey), and juveniles (dark grey) from 2005-2012. Reproduced from Zipkin et al. 2014 (Ecology).

Collaborators: Charles Yackulic (USGS), Jim Thorson (NOAA), Evan Grant (USGS), Andy Royle (USGS)
---